Support Julia's House with Bliss
This year we're supporting Julia's House as our charity of the year by donating Trial Flight vouchers and undergoing a series of fund raising activities. We were approached by Julia's House to donate a prize, and much to the surprise of the charity we were happy to donate four, which are to be auctioned. A free flight is also being donated to a hotel as a prize, which is to be coupled with a free meal at the hotel and a sponsored chauffeur driven car journey as the return.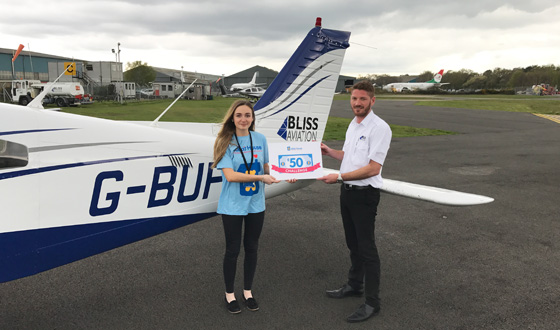 Julia's House offer care and support to families across Dorset and Wiltshire who are caring for a child with a life-limiting or life-threatening condition, providing frequent and regular support in their own homes, in the community or at their hospice. Managing Director Ollie Lehmann comments "We like to help the local public as best as we can by supporting a chosen charity each year, and were delighted to be approached by Julia's House."
In addition to the vouchers donated, members of the team will be undertaking the £50 challenge; turning £50 into as much as they can to assist with raising funds. As part of the money raising efforts, Operations Manager Nick Bird will be taking part in the Brownsea Island swim in July.
To help support us in our fundraising efforst visit our Just Giving page.